All about Bix, the White Dog
This is Bix, the White Dog. Bix was born on a puppy farm in Iowa on January 21, 1986. From there, he was crated off to a pet store in Massachusetts where he waited for the perfect suckers (oops! I mean "family") to adopt him.
As is the case with most West Highland Terriers, he was smart, sneaky, persistent, a royal pain in the @$!, and, of course, irresistible. He learned quickly how to get the upper hand and, as a result, was soon ruling the roost.
Bix starts a business
Not one to be left alone, Bix suggested that we start our own business so that he could keep an eye on us day and night. Of course, he also suggested we name the business after him. After some argument, we conceded, as always, and White Dog Press was born.
Now, all of our employees and customers know who's the boss! Talk about a business going to the dogs (who are always welcome visitors)!
Bix spent his days surveying the offices and warehouse making sure all was right with the world and no one was slacking off. He demanded that any down time must be spent playing with him. As soon as he noticed an employee doing nothing, he would immediately bring over a toy and demand his or her attention.
Bix, the White Dog Logo



Our White Dog logo perfectly captures the essence or "Westitude" of the West Highland Terrier. If you have ever loved a Westie, you know what we mean. It seemed only logical to brand that attitude that makes all of us love those little white dogs.
It all started with our classic black shirts, printed as Christmas gifts for family, employees and customers. Then we expanded into online and mail order for Westie lovers around the world. Now, Westie lovers everywhere can buy t-shirts, sweatshirts, caps, and jackets, as well as gifts for the home and, of course, for our beloved little White Dogs to proudly wear and enjoy. Just click here to start your shopping now: whitedogstuff.com/shop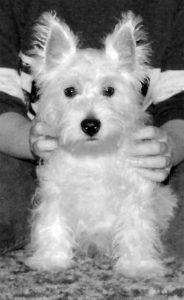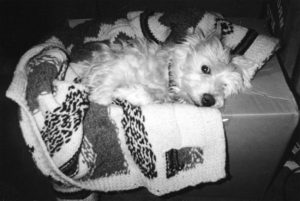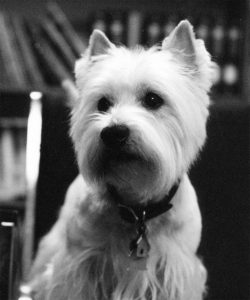 All for the love of a little White Dog
Sadly, our little Bix developed a brain tumor at the ripe old age of 15, and, as a result, passed over the Rainbow Bridge on February 12, 2001.
He was the best dog ever. We still miss him every minute of every day.
There will never, ever be another Bix.

Learn more about Westies
If you would like to learn more about Westies, (of course you would) check out the breed at westieclubamerica.com